Hey ladies, I just wanted to share a few of my october favourites with you.
First of all (this is more of an all year-round favourite) is Barry M nail polish's, the colour im wearing is 273 Raspberry and its a deep pink/red which is just perfect for this time of year. However a vast majority of Barry M's nail polish's are gorgeous, I sorted through mine putting them in order of colour and brand yesterday - it's beautiful. Barry M polish's are roughly £2.95 a pot or on the offer 2 for £5 in Boots at the moment.
Another nail polish I'm swearing by is Jessica Restoration, it's a clear strengthening polish but it's specifically for post-acryllic or damaged nails. This is ideal for me as I've spent a lot of 2010 with acryllic nails - NEVER again, my nails were in peices! However this nail polish is superb, since using it not one of my nails has broken and their quality improves every day!! I haven't even been using it directly on my nails, only as a topcoat - even a friend of mine commented on how strong they were. So a great buy for £8.75!
I brought this gorgeous pair of harem pants from the kids section in New Look - yes I'm that small! - but when they fit and there's no tax you'd be stupid not to shop kids right? So these pants are aaaaaammmaaazing. They have the perfect fit, they're a perfect colour, a perfect price and make the perfect outfit, so I guess they're... well... perfect? A bargain for £13!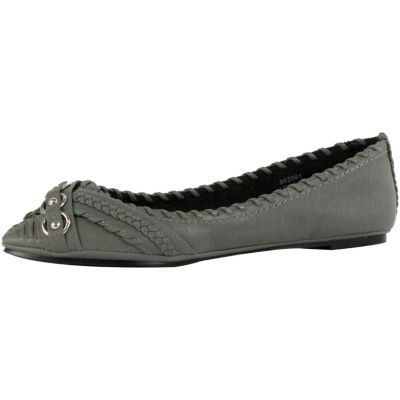 I found these girly pumps a few weeks ago when shopping with my boyfriend in River Island, they were £25 (I think!) but I chose the more winter-appropriate brogues instead. Then after shopping with my friend yesterday I found them in the sale for £12! I was very impressed and I just had to buy them, it was fate after all ;)
These pumps are gorgeous, but I LOVE LOVE LOVE my UGG boots at the moment. They're warm, they go with every day-by-day outfit imaginable and I can't imagine myself without them now!
I got them online for £52 and after checking them over they appear 100% real - if you want this link then just ask! - They're the short chestnut pair, but next I want a mini sand pair or a tall chocolate pair. I already have a pair of UGG bailey buttons but I feel like they're bad quality, the sides have fallen and have no hold, and my puppy decided they were yummy as well, boo.
A mascara I swear by now-a-days is the Colossal Volum' Express in 100% black. It's great for length, hold and thickness. I'm lucky to have long lashes anyway but I am always asked if they're real. I must admit I never use only one mascara, usually start with Maybelline Pulse Perfection which is a vibrating mascara to separate the lashes, then L'Oreal Volume Collagene which thickens the lashes beautifully, then the collosal and finishing with Rimmel Black Extreme Volume Flash. I know it's a long process but it's so worth it ;)
Staying on the make-up trend, a make-up expert friend recommended GOSH Darling nude lipstick, it was £6.49 but SO worth it! It's got a matte finish but still feels glossy on your lips, so it doesnt dry them out. I find nude lippaints really compliment my choice of hair style and skin tone, but they're not for everyone. But it is beautiful, and I do recommend trying it :)
Let me know of any other great products you've found for fall!
Harriet,x